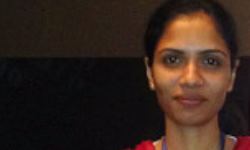 Farha Fathima, IT Professional, University of Colombo, Sri Lanka
When Farha Fathima completed her CCNA coursework she became one of the first women in IT positions at Micro Solutions. To meet the IT skills gap in the Asia Pacific region, companies in countries like Sri Lanka are hiring women into traditionally male jobs.
Women Needed to Fill the IT Skills Gap
Farha enrolled in Cisco Networking Academy courses at the University of Colombo's Institute of Human Resource Advancement to advance her career and become part of the next generation of IT workers in Sri Lanka. An estimated shortage of over 400,000 networking professionals in the Asia Pacific region by 2016 (IDC) is creating demand for skilled workers.
Farha are among a growing number of women enrolling in Networking Academy courses across the Asia Pacific region. Since 1997, 28% of students in the region have been women – the second-highest percentage worldwide. Even so, the women found it difficult to transition to the workforce. IT jobs often require employees to work long hours and travel to client offices to do field work. Traditionally, women have not played these roles in Sri Lanka and companies have been slow to change their practices.
"I tried to interview with a couple of partners, but I heard from industry experts that it's a challenge for women to get into the industry," Farha said.
"Many girls love to do networking, but don't feel they can pursue a career because it's very difficult to get a job," said Kalhari Kaluarachchi, a program manager in Cisco's Asia Pacific Social Innovation Group. "We faced a big challenge, because the industry was not ready to accept women with their Cisco CCNA certification. I thought it was time to change that."
Connecting Women to IT Jobs
Kalhari began working with the women in her program to build their confidence. She introduced them to the Women Rock IT Cisco TV series, featuring prominent women from a range of backgrounds at Cisco who speak inspire and motivate female students to pursue IT careers with their own stories.
Kalhari contacted Lalinda Dassanayake, an entrepreneur and Chief Executive Officer at Micro Solutions, a Cisco partner, to discuss hiring young women to work in the IT industry. The company had hired 10 Cisco Networking Academy students. "They told me they wanted to bring in students, but that they had never hired girls," Kalhari said. "I said, 'please try, because we might be successful'."
He decided to take a chance on Farha and 2 other girls: "The girls were young, talented, and had a willingness to work hard. Most customers prefer to have males, but Farha is very dedicated to her job."
Women Succeed Alongside Their Peers
The company welcomed them and gave them the opportunity to show their skills. They began training with the male students from the academy who had been hired first. "They have all of the technical skills," Lalinda said. "They're still learning how to engage with customers and carry themselves in the working environment."
"I feel like I'm in the industry and that I belong," Farha said. "I'm getting hands-on practice." Farha continues to study at the University of Colombo to earn bachelor's degrees in IT and prepare for Cisco CCIE certification. The combination of coursework and work experience will prepare her for a long-term career in the industry.
"As more people connect to the Internet around the world, more technology jobs will become available," said Kalhari. "We are working hard at promoting more females to get into the industry, even though there are obstacles to finding jobs."
"I know it's a challenge for women in the industry," Farha said. "But, if we can do more in Sri Lanka and make employers more aware that ladies can do the same job as men, then we can change the thinking style in the country."