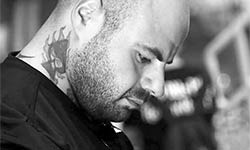 Luigi Celeste, Cyber Security Expert, Italy
Bollate Prison inmates discover the potential for success outside of prison through hands-on training and certification as part of the prison's partnership with Cisco Networking Academy program.
Italian Prison Leaves Little Option
Luigi grew up with constant abuse from his father. Coming home from school each day meant Luigi had to return to a home life that was filled with fear and anger, rather than nurtured love and security.
When he was just 23 years old, Luigi shot and killed his father to defend his mother, brother, and himself against the ongoing abuse. It marked the end of a lifetime of domestic violence that plagued his family. But as a result, he was imprisoned.
The Cisco Networking Academy Advantage
Two years in, Luigi was transferred to Bollate Prison to complete his nine-year sentence. He welcomed the move to the larger federal prison, explaining, "It's not like other jails. It offers the chance to study, work, have a life; all with more dignity." He understood that one of the benefits and delights of gaining a cell at Bollate included the opportunity for education—through Cisco's Networking Academy curriculum.
The Networking Academy program at Bollate offers inmates practical, hands-on training and certification, as well as connections to employers who need their skills. Luigi immediately saw the potential for a new life, outside the walls of the prison. So he sought out the program's instructor, Lorenzo Lento, about joining.
Though the class was full, Lorenzo was inspired by Luigi's determination. "The instructor allowed me to join in as an official visitor, so that I could listen," Luigi says. "Until then, he hadn't seen a person that was so motivated."
The program "represents a second chance at a normal life," Lorenzo says. "Their daily learning and practicing are, in itself, a way to feel [like they are] on the outside."
From Jail Cell to International Business
Lorenzo's thoughtfulness paid off; Luigi tackled the courses with zest, opting to also learn English. His passion for computer sciences crystalized, and he eventually became the first inmate in all of Italy to earn CCNA certification. He later earned his CCNA Security certification — becoming the first inmate in the world to do so. "I wanted to get the certification to change my life, to demonstrate that I wasn't the person that people thought I was," Luigi says.
After Luigi's early release for good behavior in 2016, he had the necessary tools to start working right away. Even more, his newly acquired English skills enabled him to work with international companies. Partly because of his established professionalism and partly because of the name he made for himself as a self-employed networking consultant, Luigi found himself working on a project for a world-leader in thermal and acoustic insulation. After successfully completing that project, he began to find work through people he met professionally. Soon, Luigi's work took him as far as India, China, Dubai, and Russia.
Now, many other student inmates like Luigi have found success outside of their cells. About 120 students participate in the Networking Academy program at six prisons in Italy each year, and the results are striking. The recidivism rate for participants who are released is zero, while the average recidivism rate across Italy's prison system is 65 percent.