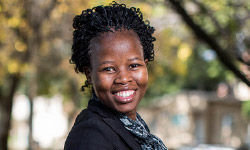 Ntombozuko (Soso) Luningo, Instructor, Learnership , South Africa
When a young girl in South Africa discovered her passion for technology, she found a way out of poverty for herself and her family. Ntombozuko (Soso) Luningo guides a new generation of students toward economic empowerment and self-reliance with the Cisco-sponsored Learnership program using the Cisco Networking Academy curriculum.
IT Training Center Awakens a Passion for Technology
Born in an impoverished village, Soso found her way to an IT center, learned technology and discovered a world of opportunity. Today, she is an IT expert, inspiring teacher and mother, living in a Johannesburg suburb.
"When you grow up in a township and go to school there," explains Alfie Hamid, Cisco Corporate Affairs Regional Lead, "you generally do not have access to 21st century schooling, and, with your financial situation, you cannot afford university, your only opportunity is for menial labor and the poverty spiral continues."
Classes at a training center built by the Nelson Mandela Foundation awakened Soso's passion for technology. CIDA City Campus provided the opportunity for a college education, and a path to a better life. By 2007, Soso had earned a bachelor's degree and a Cisco CCNA certification at CIDA.
After graduation, Soso became the youngest IT technician and only woman on the IT staff at Queens Casino in Queenstown. Within 3 months, she was promoted to Network Administrator and team manager, providing IT training to her co-workers. With her salary, Soso built a new home for her parents in the village where she grew up. Then, she gave up her private sector job to become a Cisco Networking Academy instructor at CIDA ICT Academy.
Building a Successful Academy Program
Students who enroll in Soso's classes face the same challenges she did, coming from disadvantaged backgrounds with few resources to invest in themselves or their education. Soso shows them a path to a prosperous, fulfilling future, one she traveled herself.
When she thought the Cisco CCNA Security curriculum could be a competitive differentiator for CIDA and a next step for her students, she took the course on her own time and convinced the director to adopt the curriculum. Her students have achieved a 100% pass rate on the certification exam. Soso also led the charge to make the CIDA ICT Academy a Regional Cisco Networking Academy by recruiting 6 new academies to offer the Cisco IT Essentials course.
Sustaining a Successful Career in IT
In 2014, Soso became a mother and an instructor with the Learnership program at CTU Training Solutions where she can have a powerful impact on the next generation.
She has found a way to balance teaching and family responsibilities with the demands of her new job. "It's easy for me to juggle between family and work life because they keep locking horns," she said. "I treat the new CTU students the way I'm treating the new member of my family. I keep in mind that I need to help them get used to my way of teaching while I get used to their ways of learning. I'm hoping to take these students, especially the girls, to even greater heights than CTU and Cisco is hoping for."
When asked what she would say to young men and women who are considering a IT career, she doesn't hesitate... "You can do it, go ahead."