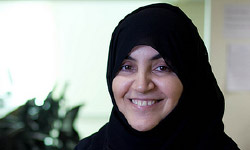 Dr. Akila Sarirete, Director, Effat University, Saudi Arabia
In 2004, Effat University adopted the Cisco Networking Academy curriculum to expand employment options for women and help advance their careers. Under the leadership of Dr. Akila Sarirete, the program has become a training ground for the next generation of women leaders in Saudi Arabia.
IT Skills and Career Building for Women
Unemployment is a serious issue in Saudi Arabia, especially among women with university degrees. An estimated 30% of Saudi women looking for jobs cannot find them and 78% of those who are unemployed have university degrees. Women typically work as teachers, nurses, or secretaries and many workplaces do not allow men and women to work together.
A Cisco certification significantly expands potential careers for in-demand IT professionals in a range of sectors, for private companies and public institutions. Women who earn the globally recognized certification, go to the top of the list for consideration by employers
Learning IT Skills Changes Lives
Effat University, a leading private nonprofit institution of higher education for women in the Kingdom of Saudi Arabia, became the first academy in Saudi Arabia for women.
With Dr. Akila's leadership, the Cisco Networking Academy program has expanded to 5 women's universities and 2 men's universities in Saudi Arabia. At first, men's universities were reluctant to adopt the program due to concerns that a women's curriculum would be less rigorous or challenging. When the university leaders met Dr. Akila, her knowledge and enthusiasm won them over. They discovered that Cisco curriculum and certification means one thing, no matter where in the world it is offered or by whom.
"Dr. Akila is an energetic fixture in the region," said Hashem Shahwan, Cisco Networking Academy Manager for Saudi Arabia, Yemen, and Lebanon. "She is seen everywhere, known by everyone." In 2009, she was named the Best Regional Instructor for Cisco's Middle East, North Africa, and Pakistan Region. She has provided translations and validated translations for the Cisco Networking Academy.
Success Expands Opportunities for Women and Men
Most students who have completed Networking Academy courses have found work, according to Dr. Akila, as IT support, instructors and trainers, or they are pursuing higher degrees. One CCNA alumnae joined the Effat University IT support team before finding a management position at a bank in Saudi Arabia.
The success of the program has challenged views about what areas of study should be offered for women. Effat became the first women's university to offer an engineering degree, partnering with Duke University, and other universities are following suit with more majors offered for women. "Seven years ago, that was impossible," Dr. Akila said. "Parents didn't accept it."
"They are really proactive now," she said."They volunteer, they organize programs, they contact companies and get jobs before they graduate." One recent graduate joined the Organization of Islamic Cooperation and won an award for her social media programs. Another graduate is an analyst of social media. "They are not afraid to be in public."