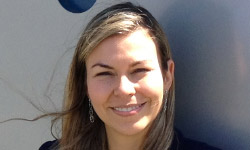 Maria Del Pilar Munoz, Student, Pontificia Universidad Javeriana, Colombia
Maria Del Pilar Munoz won the first NetRiders competition in Colombia, and went on to become a Cisco consulting systems engineer who balances her career with studies at Georgetown and Colombia Universities in the United States and her family.
Focus on a Career in Networking Technology
Maria Del Pilar Munoz studied both computer science and electronics at Pontificia Universidad Javeriana in Colombia when her dean asked her why. "After a long talk, we concluded that I was more devoted to computer science and the most interesting part of electronics for me was networking," she said. "He recommended the Cisco Networking Academy program and focusing on computer sciences." Maria excelled in her courses and quickly earned her Cisco CCNA and CCNP certifications.
Winning NetRiders Creates Opportunity
One of her most memorable achievements was winning first place at the Colombia NetRiders competition. NetRiders is a global competition for Networking Academy students comprised of online exams and simulation activities using Cisco Packet Tracer. "It was the first NetRiders in Colombia and it was dominated by women," says Maria. "There were 3 women and 18 men, and all 3 women won an award."
Maria earned a trip to visit Cisco headquarters in San Jose, California. "It gave me the opportunity to be in contact with people from the local Cisco office, so once a vacancy opened, they called me," she explains. "When I started at Cisco as an associate systems engineer, I was responsible for the office lab and demos. Now I'm a Cisco consulting systems engineer for the business video group, covering Latin America from Mexico to Brazil."
Sharing Her Story with Girls
Maria is active in helping women enter the ICT field in Colombia. "I was invited to participate in a discussion forum about women and technology," she says, "and it felt really good to share my story with other girls and address their concerns about a career path in technology."
Maria teaches at an academy and has helped organize several NetRiders events, preparing challenges, selecting the jury, and promoting the competition. "The most rewarding thing for me was having high school students in the competition," she says. "It was amazing to see these students presenting their network designs and participating in the troubleshooting challenges with incredible confidence. At that moment, I felt proud of our academies."
Work Life Balance
As a wife, mother, MBA student, and engineer, Maria says that finding the balance been her biggest challenge to date. "Trying to combine all these roles demands that you are very structured and process-oriented in all your daily activities and short term plans," she said. She is succeeding with the support of her husband, family and managers who understand her desire to excel at school, marriage, parenting and work.