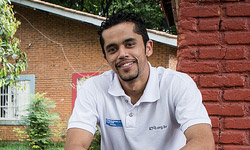 Sérgio Bruno, Instructor, Aldeias Infantis SOS, Brazil
Sérgio Bruno grew up in the SOS Children's Villages (Aldeias Infantis), a shelter for children at risk, and became a Cisco Networking Academy instructor to prepare young people to join the booming economy with much-needed technical skills and inspiring instructors.
Bringing IT Skills to Children at Risk
Sérgio Bruno was one of the first instructors recruited and trained when SOS Children's Villages in São Paulo joined the Cisco Networking Academy Program. He grew up in the Villages, and jumped at the chance to become an instructor.
SOS Children's Villages is designed to model a home life for children and strengthen the communities in which the children live. The Villages community center is a safe place for anyone to receive support and services. It was the perfect place to offer the IT Essentials course, free to residents and local young people.
"Networking Academy in Children´s Village gave young people a chance to get their first job, earn a bit of money, and continue to study and seek their careers," said Vanessa Tarantini, a United Nations volunteer for Cisco Networking Academy.
Instructors Prepare Students for Success
The Cisco Networking Academy program provides students with a work model—hands-on experience with technology and in-demand skills. They become aware of all the possibilities, all the places an IT career might take them and what new skills they need to develop.
Edson Pereira Alves Reis became a Cisco Networking Academy instructor at the Villages because he wanted to help students find a career pathway. "They already have some level of maturity and concern for their professional training," Edson said. "Some come without any knowledge in IT and, by the end of the course, they are already thinking about a career in IT."
Flavio Provedel had been a teacher for 7 years before he became a Cisco Networking Academy instructor. When 5 of his first 15 students found jobs before the course ended, Flavio was convinced of the power of the program. He sees the academy as a perfect way to realize the potential of young people in a supportive, constructive environment.
"This project can really change lives," he said. "A child only needs his inner strength to study and succeed once he has a path to follow. We help tie studying to success. The Networking Academy changed my life."
From IT Essentials to IT Careers
More than 129 young people (ages 14-21) completed the course in the first year, creating a community of skilled young people. "It is always gratifying to know that I was a part of the training," Edson said. "To make a difference in a life or in someone's career is always rewarding."
Once Sérgio started teaching, he realized that he could learn as much or more by teaching others. The curriculum motivated his students, the way it had motivated him. "The program was instrumental for me to achieve the position I have today," said Sérgio, who became a network analyst with Alpargatas, a footwear and textile manufacturer. "It opened new horizons in the professional area, now I feel that I am not allowed to think small, because I can aspire to bigger things, I can have more ambition."
"The economy is growing so fast," said Flavio Provedel, program manager for Cisco in Brazil. "Brazil doesn't need more engineers and doctors, it needs technical capacity. IT is a good career path and provides a global opportunity."